Local. Family Owned. Trusted.
Soffit and Fascia Repairs & Installation
Up to $100 Off For First Time Customers
Top-Rated Soffit & Fascia Service
At Elite Gutters, the customer always comes first. We take pride in offering the highest quality products and service in the industry.
The professional team from Elite Gutters is pleased to provide reliable soffit and fascia services to residential and commercial customers in the Shorewood community and beyond. We know that the soffit and fascia components on your home play an important role in the aesthetics and in the function of your home.
The soffit on your home is the section of your roofline that is easily visible from the ground. It is perpendicular to the outside walls of your home, and is essentially the part of your roof's overhang that intersects with the sides of your home. The fascia is attached to the top of the soffit. It runs perpendicular to the soffit and it appears to complete the look of the roof itself and the overhang of the roof.
The Soffit & Fascia Professionals
Sometimes the soffit and/or the fascia can become loose over time, or it may become damaged from strong wind or tree branches that have fallen onto the area. If your soffit or fascia are damaged, then it is important for each homeowner or business owner to repair, or replace, the damaged section.
Soffit Repairs & Installation
Damaged parts of the soffit or fascia can cause problems in other areas of your home, which may lead to larger issues with your building materials and more costly repairs, too. For example, the gutters on your home are attached to the fascia boards, and if the fascia boards are bent, broken, or crooked, then the gutter system will not work properly. A problem with your gutters can cause damage to other parts of your home. One thing leads to another thing, and this is why we strongly recommend repairing or replacing damaged soffit or fascia at your earliest convenience.
If you would like to learn more about the soffit and fascia services that we provide, then please reach out to Elite Gutters today. We aim to be your one-stop-shop for all of your gutter, soffit, and fascia related issues, and we look forward to hearing from you anytime of the year!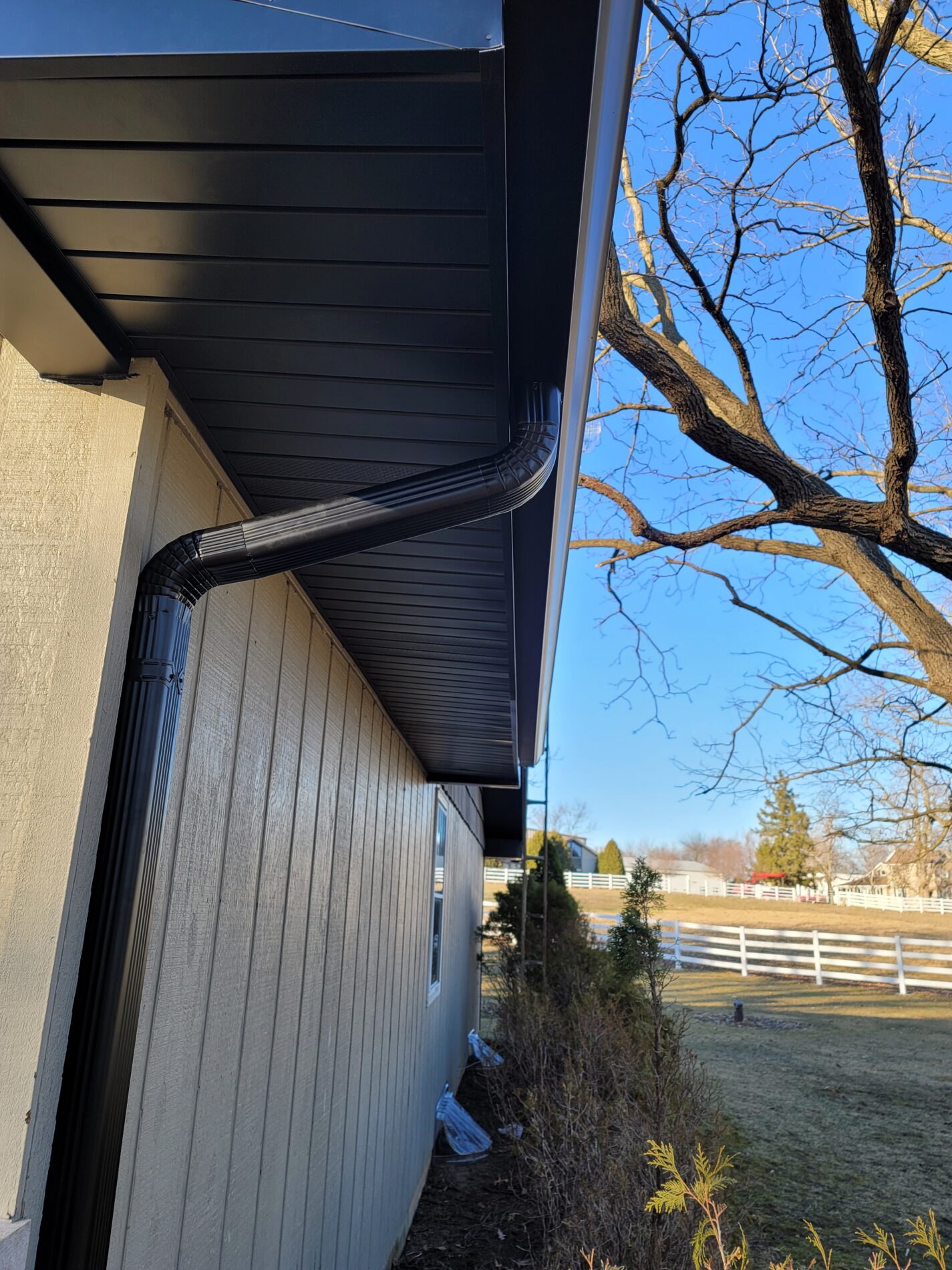 Call Us Today for a Free Quote!
We want to earn your business and turn you into a long-term customer. 
Soffit & Fascia
Done Right.
Our seamless gutter equipment is manufactured right in our home state of Illinois. We also use all American-made materials sourced from local distributors.
Here are a few cities we offer our Soffit & Fascia services in: